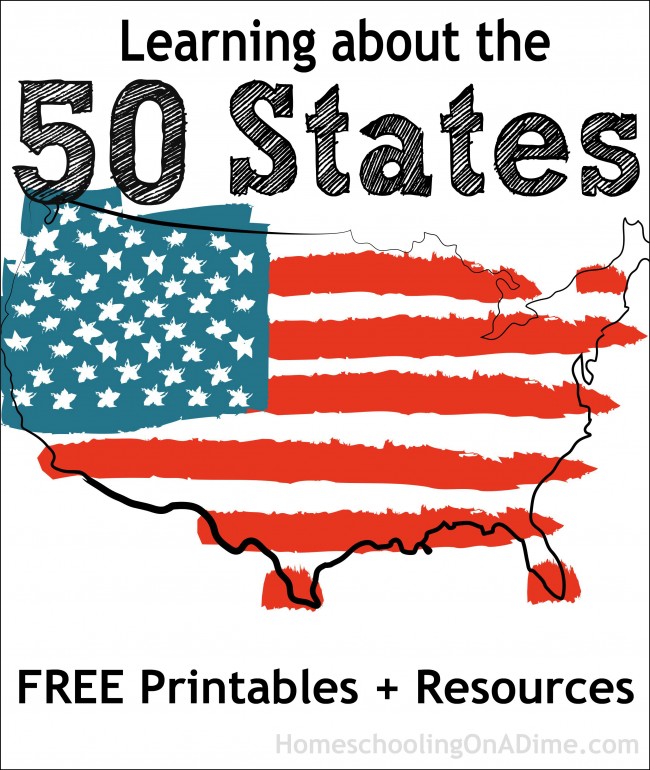 This year, we are doing Classical Conversations Cycle 3, and we are focusing on learning the states for geography.  (I'm even working on being able to draw the state map from memory–we'll see how that goes!) I've had a great time compiling and putting together resources to help us learn about the states and capitals.
Below I've listed some of my favorite resources for learning about the 50 states!
First off, I think Globalmania is an excellent free resource to get you started on your geography exploration!  It is about world geography, but it has tons of helpful tips!
Also, Sola Gratia Mom has put together a great tutorial on how to teach your kids how to draw the US (helpful for moms, too)!
FREE State Printables:
Your Child Learns has free printable maps for all areas.  Check out this great Interactive Map idea from Teaching with Simplicity. These are one of my favorites!  I printed these and laminated them to add to the girls' notebooks.  
Here are free printable states cards with facts from Nick, Jr.
123homeschool4me is offering free printables for the 50 states.
Harrington Harmonies is offering free state notebooking pages.
Get these printable state pages from Crayola
Create printable state word scrambles to add to a state notebook.
Free printable state stickers would be great to place on a map.
Here are Free State Outline Maps (plus 100s of other free notebooking printables).  You'll have to sign up (for free) to get access to freebies
Homeschool Views has free printables for each state and a "Fifty Nifty United States" song.  You can also view the Fifty Nifty United States song on YouTube here.
FREE United States Lapbooks:
I love this! Marine Corps Nomads shows you how to put together a free United States lapbook.
Homeschool Share has an amazing list of book studies, lapbooks, and various printable pages to use in a study of the US States.
Resources to Create a State Unit Study:
Homeschool Room has a great series on Resources for a 50 State Unit Study.
At 310 pages this one is huge!  You can find a thorough, free basic state study at Tending Our Lord's Garden.
50 State Booklist has books about/from each state.
Our Journey Westward has an Around the USA literature-based study.
Happy Homeschool has ideas to create your own state unit study.
The Happy Housewife has free printable State Notebooking Pages.
Learn about the 50 State Quarters program from the US Mint.
Raising Our Kids has some amazing American History timeline cards (or coloring pages).
Mom's Mustard Seeds and Founders Academy have free lessons and printables about our US History.
Animaniacs US States song is available to watch on YouTube.  You can also grab this free printable to go with the Animaniacs song.
The United States Coloring Book (Dover History Coloring Book) isn't free, but it's pretty inexpensive if you don't have access to a printer or your printer costs a ton to operate! At the time of posting it was just $2.74.  Prices may change!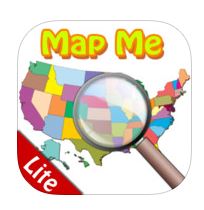 Games to Learn the States:
Download six different United States bingo cards at Deceptively Educational.
Statetris is an online game you can play to put the states in their correct location on the map!
Sheppherd's Software also has a free online state identification game.
Here is another style of online state identification game from Learning Together.
Benjamin Franklin is your "guide" for these USA online games.
Your Child Learns has a drag and drop state review online game.
Map Me is a free app from iTunes.
Here is a free printable "Spin the States" review game.
You may also like this State Capitals printable Memory Game
Enchanted Homeschooling Mom has a United States Pocket Chart Game with free printables.
Surviving a Teacher's Salary has a United States Bingo Game printable.
Other Stuff We Are Using!!
I bought The Scrambled States of America game for the girls.  A small version of the book is included, but a full-size version of The Scrambled States of America is more helpful!  We were also given several of the Which Way USA club books and maps by a friend.  We'll be using those, too!
By the way, if all of these resources I've shared here overwhelm you, be sure to check out how Homegrown Learners is keeping a simplified approach to learning about the states.
I have to end with this just because it is awesome (and it would be fun to have)!  Might as well take advantage of bath time–and learn states (and world geography) with this world shower curtain, right?!!
Do you have any free or inexpensive resources to learn your states?