Free Homeschool Deals:
1.  Today, you can download Teaching in Your Tiara: A Homeschooling Book for the Rest of Us for free.
2.  Jenni Mullinix is offering a free download of her Gift of a Saviour Christmas Curriculum for subscribers to her blog.
3.  My Christmas Crafts and Carols eBook is available for free.
4.  Currclick's Free Product of the Week is: New Millennium Girl's Holiday Treats & Crafts.
5.  Simplified Organization is offering a free 3-part workshop on planning that gives you instant access to recorded classes about paper versus digital planning methods, bullet journaling strategies, and digital planning tactics.
Discount Homeschool Deals: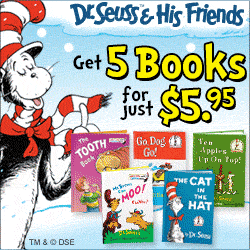 1.  We used to get these when the girls were little.  Right now, you can get five books when you join Dr. Seuss and His Friends and for just $5.95 shipped.  You'll also receive a FREE activity book.
  Please note that this is a "subscription" type service, so you will receive more shipments until you cancel.
2.  Get this Thanksgiving Lapbook this week for ONLY $2.00 (reg. $5) from Currclick.
3.  I have a round-up of Christmas Books for Kids for under $6 on Amazon.
4.  Shutterfly has a FREE wall calendar, 50% OFF hard cover photo books, and 40% OFF everything else.  Use the coupon code SAVE365.  This offer expires 11/23.
5.  KIWI Crate is offering one month free on any of their boxes (just pay shipping of $5.95).  You can choose from the Koala Crate (3-4), Kiwi Crate (5-8), Doodle Crate (9-16+), or Tinker Crate (9-16+).  This could be a fun gift idea!  Please keep in mind, this is a subscription, so you'll need to cancel if you do not want to receive any more shipments.